When the emails get deleted from Mac Outlook application, that mails get saved in the folder "Deleted items" . Day by day, the size of folder increases and affects the overall performance of Mac Outlook 2011. To fix the issue, you have to delete the mails from Deleted items folder. Mac Outlook 2011 offers a solution to automatically empty deleted items Outlook 2011 Mac when Outlook is closed. Follow the below steps –
Solve this query by chasing the below steps:
Enable the Empty Trash Schedule
Create a New Trash Schedule
Make Enable the Empty Trash Schedule
Firstly, open the Mac Outlook Application.
Then Click on Tool » Run Schedule » Edit Schedule
Edit the Empty Deleted Items Folder by double clicking on it (if you have Empty Deleted Folder).
After the above step– Select the option "On Quit" and make a check mark on "Enable"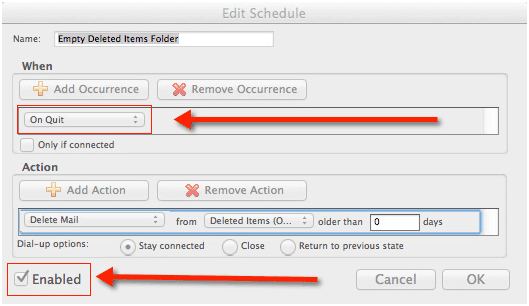 Then click on OK and check your Trash folder. You will find it Empty.
Now Close the Outlook 2011 application , a message will appear on the screen and will ask for Do you want to delete items from Deleted Item Folder. Make a check on "Don't show this message again". Next time, When you close the Outlook, the items of Trash folder will be removed automatically.

Steps to Create a New Trash Schedule
Next solution, Open Mac Outlook » Tools Run Schedule » Edit Schedule.
Then Click on the "+" Sign to add new Schedule.
Here give it a title like "Delete Trash on Exit".
In the "When" section, select "on Quit".
In the "Older than" field Enter "0" days. Save the settings, It will empty the trash folder as you close the Mac Outlook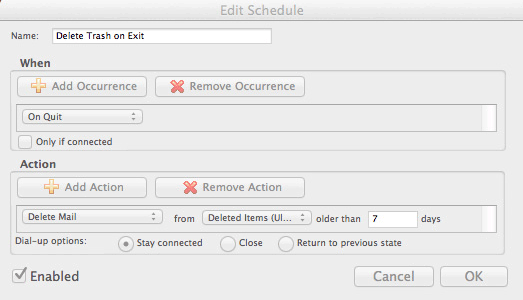 Any of the two solutions can resolve the query "automatically empty trash Mac Outlook".